Sharp Crochet Hook FAQ
Q: Do you ship internationally?
Click on the "Buy now" button to place your order then click on the "Ship outside U.S." link to select your country. If you have any further questions please contact us.
Q: Can I pay by check?
We do not current accept orders by check. Please place your order online with PayPal.
Q: What size of crochet thread is best for crocheting borders and edgings around baby blankets and burp cloths?
The Sharp Crochet Hook will work with size 10, 5, or 3. I like size 3 the best for baby blankets and burp cloths because it is the softest. Some people like to use size 10 because it has a more "lacey" effect. You can buy them at our Sharp Crochet Hook Amazon Store.
Q: Do you have a template for making rounded corners on baby blankets and burp cloths?
Sure- you can print the picture below, lay it on your blanket or burp cloth's corners, and cut on the curve. I prefer to use the 6" rounded corner if I am doing a wide edging pattern and a size 4.5" rounded corner if I'll be doing a thinner edging pattern for baby blankets and the 3" rounded corner template for burp cloths.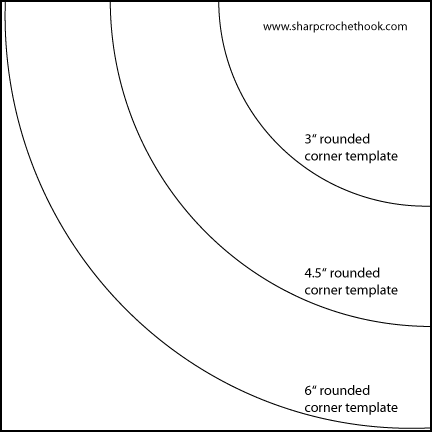 Q: How much fabric should I purchase to make a baby blanket and burp cloth?
It depends on how big you want them to be. Receiving blankets are typically somewhere between 36" x 36" and 45" x 45." A crib blanket is usually 60" x 45." A burp cloth is typically somewhere between 8" x 16" and 14" x 22." I like to make mine 11" x 18."
I usually buy 1 1/2 yards of flannel to make a single layer baby blanket and a double layer burp cloth. I cut an 11" strip off the end of it for the burp cloth, and use the rest for the blanket. I round the corners, and sew the two layers of the burp cloth together with a zig-zag stitch before crocheting the border so they stay together while I'm crocheting around them.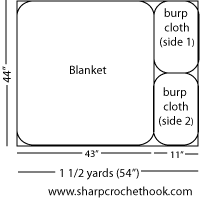 Q: What patterns are included in the Sharp Crochet Hook package?
The Sharp Crochet Hook package includes three patterns- the Quick and Easy, the Picot Fan, and the In the Loop. Here is a picture so you can see what they look like.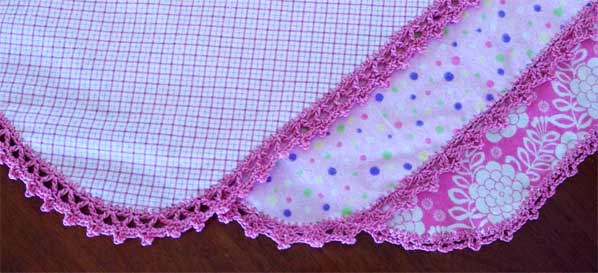 Q: What size of crochet hook should I use after I crochet the first round through the fabric with the Sharp Crochet Hook?
It depends on your preference. I like Boye's size 3 (2.10mm) for size 3 crochet thread.
Q: Should I use one or two layers of flannel for a baby blanket?
I prefer a single layer for summer babies and a double layer for winter babies. Single layer blankets are cheaper (because you only need to buy half as much fabric), but double layers are the more traditional way of making them. It is up to you! Whatever you decide to do, I'm sure your hand-crocheted border will be well received!
Q: Is the girl in the demo video pregnant?
Yes, she was 8 months pregnant at the time of filming. She is expecting a girl, which is why most of the blankets in the video are pink and purple! This is the link for the demo video if you want to watch it again. P.S. If you were wondering, an 8 month pregnant, sleep deprived mom makes for some hilarious outtakes!
Q: I want to crochet an edging around a baby boy blanket, so I don't want to use a "girly" pattern that is too lacey. Can you recommend one that isn't too feminine?
We like the "X's and O's," "Basic Picot," and "Quick and Easy" edging patterns for baby boy blankets.
Q: My local fabric store carries several hemstitched blankets, but not the Sharp Crochet Hook. It seems like people would be more likely to purchase a Sharp Crochet Hook that can be used over and over, than purchase a hemstitched baby blanket that costs $25.00. How can I get them to sell the Sharp Crochet Hook in their store?
Thank you, we agree! People that are used to buying hemstitched blankets are usually really excited to buy a inexpensive crochet hook because they can crochet edgings around whatever fabric pattern and size they want- they aren't limited to what the store has already hemstitched. Using the Sharp Crochet Hook is an inexpensive way to make something handmade.
You can tell your local fabric store our URL: www.sharpcrochethook.com, and mention that we have special wholesale pricing on orders over $100. They just need to contact us for more information!
Q: When should I expect my order?
If we are mailing it "standard shipping," U.S. orders should arrive in 7-17 business days. We mail orders within 5-10 business days of receiving payment. International orders can take considerably longer to arrive.
Q: Are other shipping options available?
Yes, just contact us and we will work with you the best we can.
Q: Do you accept returns?
Yes, just ship the item(s) back to us within 30 days, and we will refund your purchase price minus the shipping and handling costs. Wholesale orders will be charged a 10% restocking fee as well.
Do you have a question? Let us know! Please Contact Us for more information!